Neues Projekt zu Strandtreibsel gestartet
Wie umgehen mit massenhaft angespülten Braunalgen und Seegras ("Treibsel") an den Ostseestränden? Liegen lassen, entsorgen oder verwerten? Dies sind Fragen, die während der Badesaison nicht nur Küstenbewohner, Urlauber und Touristiker, sondern auch Kurverwaltungen, Hotels und Kommunen rund um die Ostsee beschäftigen.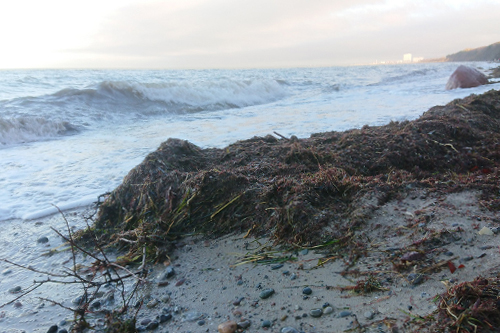 Das Interreg-Osteeprojekt CONTRA (Baltic Beach Wrack – Conversion of a Nuisance to a Resource and Asset) widmet sich genau diesen Fragen. Auf ihrer Kick-off Konferenz vom 26. bis 28. Februar 2019 in Kristianstad (Schweden) stellten die in sechs Ostseeländern beheimateten 14 Partnerorganisationen von CONTRA, darunter Forschungsinstitute, Kommunen und Unternehmen der Biowirtschaft, die Weichen für die kommenden zweieinhalb Jahre Projektarbeit. In dieser Zeit soll nicht nur das Wissen um die küstenökologische Bedeutung des Strandtreibsels, sondern auch über kostengünstige Entsorgungs- und innovative Verwertungsmöglichkeiten (z.B. energetische Nutzung, Landwirtschaft und Küstenschutz) erweitert werden.
Ziel ist die Entwicklung eines Handlungskatalogs, der den Kommunen vor Ort passgenaue und kosteneffiziente Optionen für eine ökologisch vertretbare Strandreinigung zur Verfügung stellt. REM Consult hat die Projektidee von Beginn an unterstützt und wird den Partnern über die gesamte Laufzeit im Projekt- und Finanzmanangement zur Seite stehen.