Kick-off for new project on beach wrack
Everyone who has been at beaches along the Baltic Sea coast knows it, nobody likes it, but what to do with it? Is it just waste to be dumped somewhere? Or rather a valued raw material that can be used for various purposes?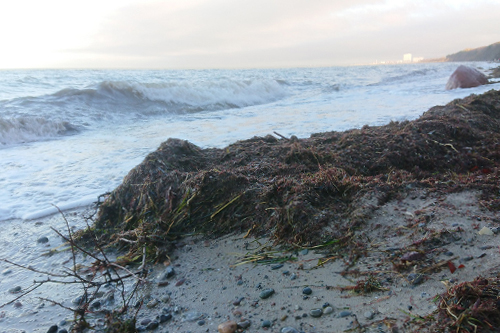 Especially during summer, questions like these are raised not only by coastal inhabitants and holidaymakers searching for beautiful clean beaches, but also by the tourist industry and municipalities around the Baltic Sea. Currently, the issue is addressed within a new Interreg-project CONTRA (Baltic Beach Wrack – Conversion of a Nuisance to a Resource and Asset), which has just been kicked off at a conference on 26-28 February in Kristianstad (Sweden).
During the meeting representatives of 14 project partner organisations from six different Baltic Sea countries set the course for the coming two and a half years of project work. The partnership comprises among others research institutes, local communities and environmental service companies. The intention of CONTRA is to improve knowledge on the importance of beach wrack for coastal ecology and to find new cost efficient and innovative ways for collecting and using the material within different sectors such as energy, agriculture and coastal protection.
One of the expected outputs of CONTRA is the development of a toolkit, which will enable local communities to apply innovative, cost efficient and sustainable recycling options for beach wrack. REM has supported the project idea from the very beginning and will assist the partners in terms of project and financial management.