Project Development
With our support, your ideas materialize into successful applications.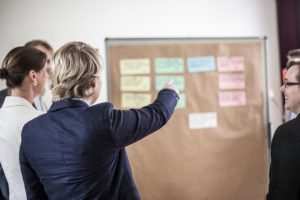 Whether you already have a clear project plan or only a vague project idea, we can tell you how and where your project can be funded and what to pay attention to when applying for funds. We familiarise ourselves with your project's topic and develop your project idea in a joint effort to ensure its potential eligibility for funding. In addition to this, we structure its contents and work packages and provide recommendations on strategic questions. In case you are in search of project partners to cooperate with, we can support you with our far-reaching European network and make sure that you have a competitive head start with your project partners.
The decisive step in the actual realisation of a project idea still remains the successful application for receiving funding. A coherent and holistic project idea – with well-balanced goals, activities and results – represents a particularly important factor to us at REM Consult. The project should be ambitious and realistic at the same time in order to not only convince the evaluators and different programme bodies, but also in order to be realisable and profitable for the project partners themselves.
Depending on your particular service needs and wishes, we offer tailored support – whether full-service or limited  to specific modules. While we support most clients in coordinating the entire project development process, including content-related development, budgetary planning and administrative tasks, there is also the possibility to only help you with the fine-tuning of your project idea or specific aspects of the application.
Thanks to our experiences gained from various funding programmes and different topics, we are able to quickly assess where the specific challenges regarding your project lie and how the process of a successful project development is to be planned and conducted. We are looking forward to making your idea grow and succeed!