Project Management
Stay on top of everything and achieve your project goals with us!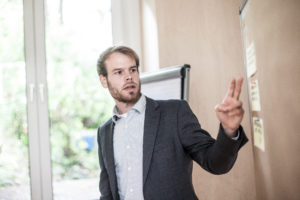 Coordinating an international group of project partners is a task that is equally exciting as it is challenging. Presenting the project idea in a clear and succinct manner during the application phase does not automatically imply that all project partners clearly understand how the idea for the project must be put into practice afterwards. We can help you by developing a shared vision and distributing tasks and responsibilities effectively, we can make sure that all project partners are able to make optimal use of their competencies and experiences. You need not be responsible for every detailed task at the expense of the project's overall quality.
A crucial aspect of coordinating projects is the task of holding workshops on a regular basis. We can help you prepare, present, and document their content and organisation. But also in between meetings we see it as part of our task to always maintain open channels of communication among the numerous project partners involved and to guide all the different flows of communication into the right direction. In order to achieve this, we make use of our intercultural experiences and cross-sectoral communication skills. Together with you and the responsible partners we supervise your project's progress and find consensual solutions in case things do not work out as envisioned during the application phase. Flexibility and adaptability are just as important to us as a well-structure and result-oriented planning of the project.